82% of marketers worldwide use email marketing. But only a small percentage of those marketers are using the platform to its fullest potential – especially when it comes to SaaS.
Email marketing for SaaS (Software as a Service) can be more complex than for any other business as they have long and, at times, complicated journeys.
However, there are SO many opportunities for effective email marketing strategies that most don't take full advantage of.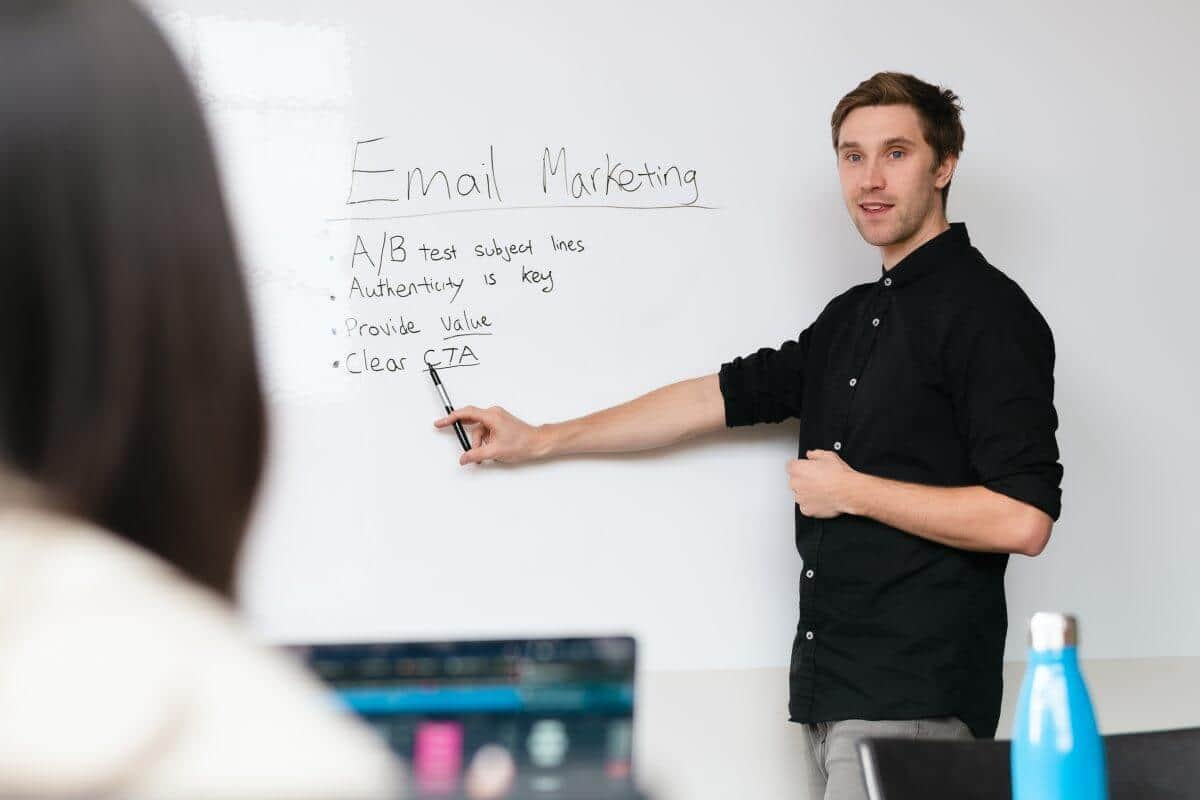 Most SaaS email marketing campaigns will include strategies for marketing, lifecycle, pipelines, and even lead generation. Some require an advanced technical setup so you can use customer data to splice up the information you're sending out. Some aspects might involve skills you don't have in marketing or even engineering.
Is email marketing something you've been putting off? Are you finding it intimidating to get started? Or have you already started but feel like your returns have hit a ceiling?
We get it. Email marketing is complex as it is — and when it comes to SaaS, there's another very top-level layer of complication thrown into the mix.
So let's break it down for you, and in no time, you'll be sending emails like a pro, not only attracting and keeping new customers, but improving your bottom line.
What is SaaS email marketing?
SaaS email marketing is the process of using an email marketing strategy to promote your SaaS business and boost your overall profitability. It's not just for marketing and sales.
Specialists can also use the strategy for valuable communications with existing and prospective clients, focusing on updates, specials, or even password changes and account verifications.
Like all email marketing strategies, the benefits are clear:
It will find your customers where they are (online and in their inbox);

It enables personalised and targeted curated content;

Increases your brand awareness and improves customer relationships;

Increases website traffic with the right CTA back to your page;

The cost is quite low, and therefore, not only does it drive revenue, but it also brings great ROI. Email marketing drives an average of $44 for every $1 spent (per Campaign Monitor).
Different types of email marketing categories
We know that email marketing is an incredibly effective tool when used correctly. The numbers don't lie: Email marketing is 40x more effective at acquiring customers than Facebook or Twitter (McKinsey).
But that's speaking broadly. To actually creative effective marketing campaigns, we need to be able to break down email marketing into its components.
For SaaS businesses, you can slice up the email marketing toolkit in three different areas:
Product
Updates. Make sure all your customers and prospects are informed about all the great product updates you have and how they can benefit from them.

NPS (Net Promotor Score) Surveys. This is a great way to learn directly from your customers and what they think about your products and services.

Company Announcements. Always share great news with your audience. It makes them feel like they are part of the team. And as a bonus, it's a subtle and humble brag about your company.
Marketing
Content Newsletter. Use a weekly, bi-weekly, or monthly newsletter to share resources and other content assets you've created, like blog posts or lead magnets.

Promotion emails. Keep your customers informed about all your marketing activities.
Sales
Offers. Similar to the promotional emails, make sure you give leads incentives as you move them down the funnel. You can combine some of the above marketing or product emails as well. For example, send out a survey and give them an incentive like a gift card to make sure you get valuable info. Customers always appreciate it.
Winback campaigns. We don't always get it right with each prospect or customer. Make sure you include a step that can win back or re-engage churned customers.
Are you ready to scale your business?
We have worked with clients of all sizes, industries and stages of growth. What will we do for you?
5 steps to a successful SaaS email marketing strategy
Make sure you determine your customer journey
Map out the journey your customer takes when they go through the buying process. Where can they be reached? What are they interested in? What are the touchpoints they need to hit BEFORE entering an email flow? What will they need before, during, and after you've reached them?
This step will help you to understand which of the many outreach options (as seen in the list above) are best for your clients. They all have different purposes, so defining clear goals will help you choose who should receive what.
Sales/Conversions

Brand Awareness

Customer Success/Retention

Upsell/cross-sells
The goals might ever overlap, which is okay. Just make sure you're tracking each goal carefully so you know where to adjust.
Chose the right marketing software
As a SaaS company yourself, you understand the importance of having the right software to be successful. Marketing teams tend to use CRM solutions like Salesforce or Hubspot. These allow you to keep all of your data in one place.
You can then organise the data for a more in-depth analysis of your customers and their behaviours.
Whatever software you choose, make sure it's scalable.
Why? Because as you find success and your SaaS business grows, you don't want to outgrow your software. So make sure you invest in where you want to be, not where you currently are.
And if you're not sure, many platforms offer a free trial or demo. Some even have a free version that you can then upgrade when you're ready for more.
Track conversions and prioritise opportunities for growth
Make sure you have a good process to track all of your conversion points. This doesn't mean only focusing on the positive ones.
Conversion points like drop-off rates and bounce rates are great indicators that something needs to change or where you're losing their interest.
So, make sure to adapt. Ask yourself: What data points will allow you to grow the most? And focus on those.
Grow your email list and segment into smaller lists for more personalization
To get started, you need to make sure you can get your audience's opt-in. Avoid cold-emailing prospects who haven't already opted in to hear from you. That's a great way to burn your list.
If you're lucky, you've already been able to build up a solid list. But if you're starting from scratch, here's a few ways to build the list.
Content upgrades and free resources. Give away case studies or whitepapers that can help your prospects in exchange for their subscription. You have to give a little to get a little. And offering up free and valuable insights is a great way to gain good favor. You're already showing value!

Purchases. Include an opt-in box during the purchase stage to see if they'd like to keep up with your product and company.

Landing pages. Build an informative and clear landing page with a great CTA and have them wanting more of what you have to offer.

Use your social media. Things like giveaways and contests are a great way to get engagement and to get subscribers.

And remember, emails with personalised subject lines are 26% more likely to be opened (Campaign Monitor).
To make sure your lists are clean and effective, make sure you do constant maintenance on our lists, by eliminating duplicates and removing inactive accounts.
This leads us to our last point and why there are benefits to segmenting your audience. All of these steps are easier and more effective once you know who you're reaching and what they would want to hear. You'll learn a lot more as you go.
And with these segmented lists, you'll be able to customize your messaging to what they will need and be interested in.
Remember, you're speaking with humans
Oftentimes, we get so in the weeds that we forget that we are speaking with actual humans. We may be able to use AI and some tools to facilitate our processes, but in the end, it's people who want to know why they should give you their time. And it's your job to convince them.
Create well-structured, informative, automated email marketing workflows with relevant, appealing, and interactive content. People want to know more about your product and how it can help them with their specific problems. They want to understand why you're the best person to solve it. Include user stories that others can relate to. Send case studies with relevant pain points and how you found a solution for them. And deliver content that will grab their attention and make them want to read more.
Keep this in mind and you'll find success. Email marketing is a powerful tool for SaaS.
Not sure where to start or want to chat to an email marketing expert? Get in touch for a complimentary strategy session.
---

---