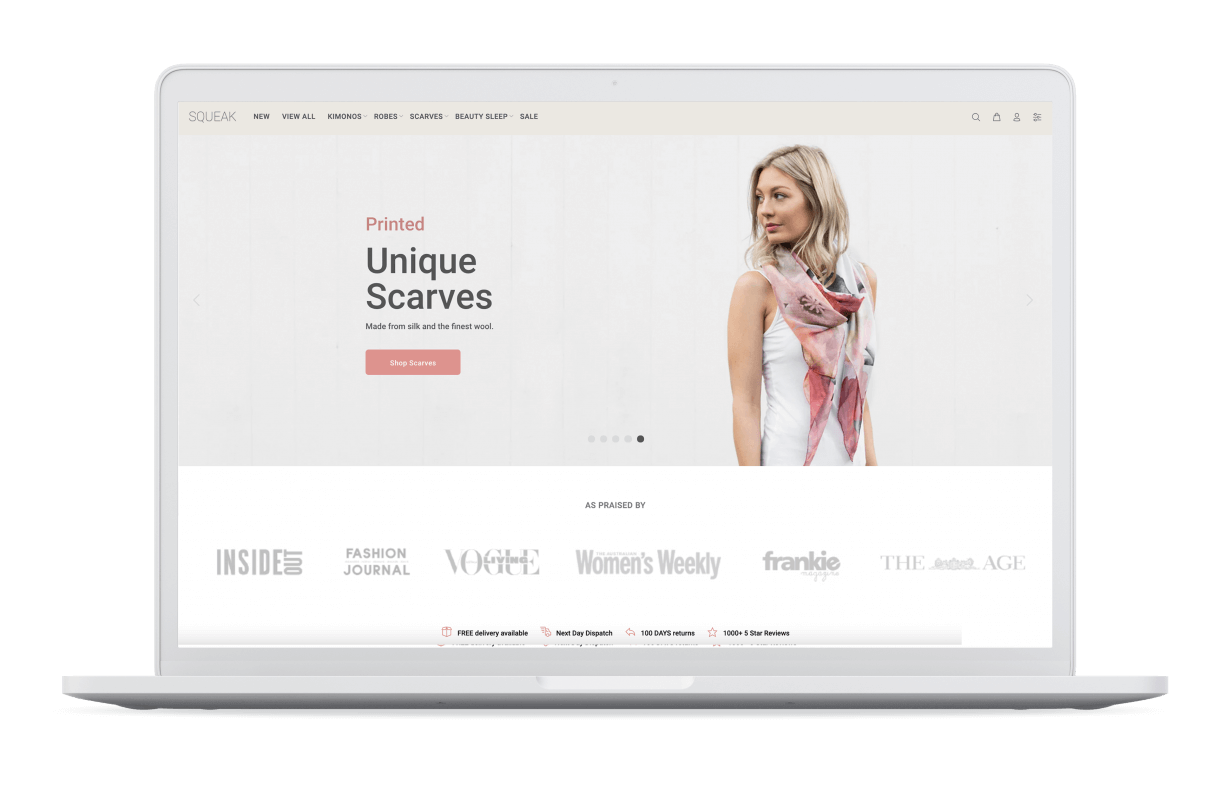 Introduction
Now a thriving Melbourne-based boutique specialising in luxury silk clothing (scarves, kimonos, robes and bedwear), Squeak joined forces with Megaphone over six years ago after a coincidental run-in with the agency's founder, Max.
At this point, Squeak was a one-woman show selling at tradeshows. Yet, despite being in its infancy, Megaphone saw the strong potential of Squeak's business model and product range.
Being a start-up, the opportunities for Squeak were endless. However, risks were aplenty too. To achieve the greatest chance of success — minimising risk and capitalising on opportunities — Squeak needed to recognise which avenues would reap rewards, which areas required laser focus, and develop an overall pathway to growth. Through a robust and holistic strategy, that's where Megaphone came in.

Method
In the early stages, knowledge and data were crucial. The Megaphone Vortex (testing at grand scale) helped Squeak to understand its target market, understand its audience's desires and pain points, and achieve the most important aspect in any business: product-market fit.
With strong fundamentals in place, sales and marketing targets were hit, year on year, while Squeak expanded its product range along the way.
Fast forward to 2020 and COVID-19 provided a major roadblock: known for its beautiful travel-centric imagery, an immediate pivot was required for Squeak to stay relevant and maintain sales. 
To do so, Megaphone went into content creation overdrive, building an asset bank that expanded far beyond the travel niche while also honing into a new angle: winter-wear. Combined with a PR strategy, Squeak's perception was successfully adjusted without losing its original essence, allowing the brand to remain at the forefront of consumers' minds.

Results
Thanks to a fast and well-crafted adjustment to PR, Squeak has since been featured in the likes of Vogue, Women's Weekly, Frankie Magazine, The Age and Fashion Journal. 
Travel-related hurdles were overcome, and Squeak is now regularly bringing in six figures plus in revenue — the manoeuvrability during winters and lockdowns has not only seen Squeak survive but thrive. 
And with sales continuing to grow, the opportunities, again, are endless.