Google Ads is the world's leading paid advertisement network. One reason it's so successful is that it makes customers money. The average company generates $8 in ROI for every dollar spent on Google Ads.
But what separates high-performance Google Ads from ones that lose marketers money? Megaphone, Australia's #1 online marketing agency, has the answers.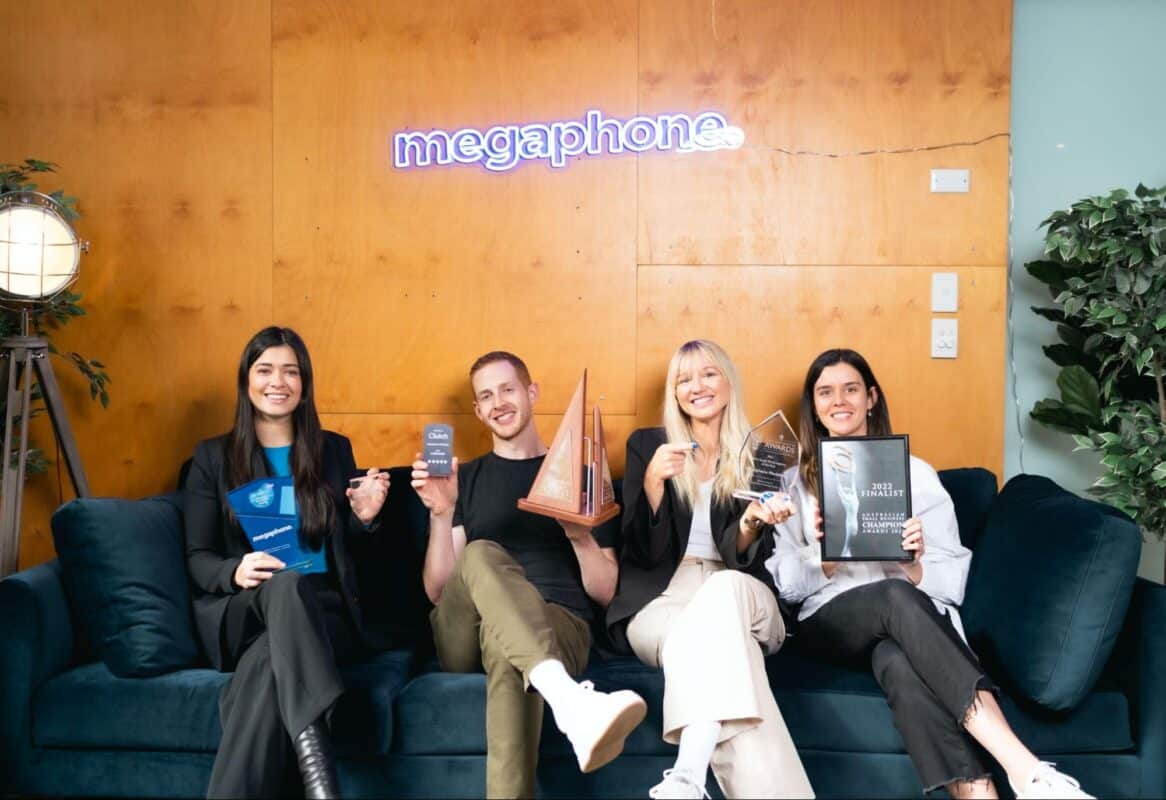 You don't have to spend days or weeks searching Google for the best ads to inspire and teach you. Instead, check out these 11 incredible ads we found – and our coverage of why they're so good.
We'll start with a local (Australian) brand…
1. Allianz – Leveraging Social Proof

Allianz is a global insurance company with over 86 million customers worldwide. One of its key services is Allianz's car insurance. This is the service this Google Ad aims to sell. 
A few things to note here. The ad is short, to the point, and it has the service's star rating (and number of reviews). This gives the brand incredible social proof; if nearly 6,000 are happy with the service, you likely will be too.
By using Google Ads' seller ratings, Allianz's ad builds authority by showing that this company has many positive reviews.
This ad's title solves a pain point: a time-consuming sign-up process. Instead, Allianz promises "a quote in two minutes."
The happy family presented in this ad's image helps make Allianz appear personable.
No long-winded ad copy, just the brand's value pitch of a fast car insurance quote.
Uses Sitelinks to take up more ad space with relevant links from Allianz's website.
Showing up first for 'car insurance,' which is an extremely competitive keyword.
2. GoDaddy – Marketing With Benefits

You're likely familiar with GoDaddy, one of the largest domain registrars online. This company helps customers buy domains, host websites, and similar.
Let's be honest – registering a domain isn't the most exciting thing in the world. It's also a commodity product; everyone is selling the exact same thing. That's the challenge GoDaddy has to deal with.
Instead of complicated jargon and technical terms, GoDaddy's Google ad speaks to the dreams of business owners who need a website. It offers benefits – not features – which is why we like it so much. 
GoDaddy's ad paints a picture. People can bring their business ideas to life with a website from GoDaddy. Instead of focusing on dry facts – cheap web hosting, registrar a domain quickly – the ad inspires.
This Google ad shows that GoDaddy knows who they're targeting: business owners. Do your company's ads also have a clear audience in mind?
Instead of lists of product features, put yourself in your customer's shoes. How does your business make their lives easier?
3. Wowbeds – Advertising Promotions

Wowbeds is an Australian company that sells comfortable mattresses and sleek bed frames. This company's main product is the Duo mattress, containing up to 3,000 pocket springs for unmatched comfort.
If you've purchased a new mattress, you know these items aren't cheap. To boost conversions, Wowbeds launched an ad giving away this company's signature pillows. The way they market the promo would work for any contest, discount, giveaway, etc.
Wowbeds wastes no time by leading with its offer: claim your free pillow. Direct and to the point.
The body of this ad mentions benefits like back support, comfort, and pressure relief. Instead of describing mattresses, this ad tempts readers suffering from poor sleep on uncomfortable mattresses.
4. Toptal – Being Specific

Toptal is a freelance platform designed to connect companies with the world's best developers. This company works specializes in developer, designer, and management-based roles.
Recently, Toptal launched a Google ad aimed at developers looking for work. This ad's title gets right to the point. It mentions that TopTal has high-paying developer positions that pay in USD available.
As inflation and a shifting job market is a pain point for many people around the world, this is perfect for their target audience: developers who want to work remotely.
The ad is fundamentally simple. Work remotely; get paid in USD; be a part of the world's top 3% of developers. This addresses the financial and career wants of the audience perfectly. 
Toptal's Google ad features additional links to extra pages (site links). Ad viewers can join TopTal's upcoming events, apply immediately, view talent requirements, and more. This gives the ad more "surface area" and maximizes clicks.
One of Toptal's selling points is that joining its network puts you in the "top 3%" of freelancers. What's something your company offers that its competitors can't? Use these selling points in your advertisements.
5. Shine Lawyers – Making a Godfather Offer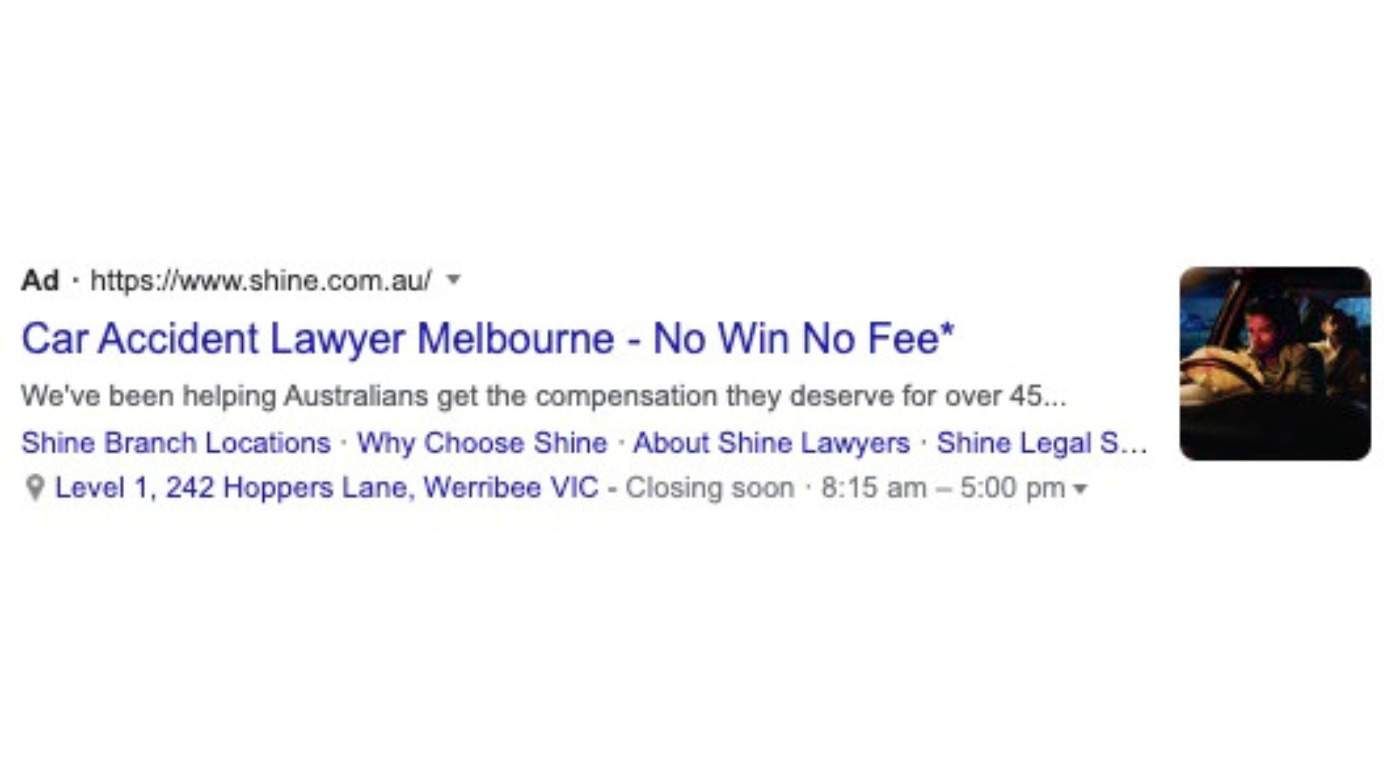 Shine Lawyers is a car accident law firm based out of Australia. Many of their competitors run ads based on how good they are at their job. Shine Lawyers take a different approach.
If they don't help you win your legal dispute, you don't have to pay any fees. That's what you call a Godfather offer; one that's incredibly difficult to turn down. Prospects have nothing to lose and everything to gain by clicking the ad.
Create a strong offer and highlight it in your ad. This is something we saw with Toptal, but Shine is the best example of this we've seen recently.
Adding your company's address to Google ads builds legitimacy in the minds of ad viewers.
Next to its address, Shine Lawyers includes its business hours. Including your company's business hours in ads can help prevent after-hour calls and callbacks.
This ad also uses Google's sitelink extension. Instead of creating a large ad with detailed links and information, Shine Lawyers makes great use of single-line sitelinks.

6. Handyman Near Me – Answering Frequently Asked Questions

Besides a savvy business name, Handyman Near Me provides Australians with hard-working handymen in their area.
The ad it basically a list of answers to frequently asked questions like…
How much will this cost?
Are rates fixed or hourly?
Can I get a quote?
Which days is the service available?
This ensures that only interested, qualified prospects click the link. Since Google Ads charge you per click, this is a smart way to reduce costs and maximise ROI for your ad.
Address all common concerns and questions in your ad copy. As time goes on, add and remove information to make the ad as useful as possible for your prospects. 
Handyman Near Me uses exact keywords for its site links (best handymen, professional handymen, etc). The next time you use Google Adwords, find popular and relevant keywords you could link out to in your ads.
While this ad's main hook is listing the prices of hiring handymen, it also builds authority by including the words 'best-rated' in this ad's title. This ad drives home that Handyman Near Me works with people who provide high-quality work.
7. Leaptel – Use Power Nouns and Verbs

Leaptel is an internet service provider that's part of Australia's National Broadband Network (NBN). This company specializes in providing Australian homes and businesses with high-speed internet.
Leaptel uses its ad description wisely, highlighting keywords like "prices", "deals", and "offers" This ad also shows how much money customers can save, by using its annual plans. Ad viewers immediately know that they can save over $180 on internet service.
Leaptel's ad title mentions "prices, deals, and offers." Using these words often appeals to the budget-conscious crowd. What power nouns and verbs could you use in your next ad?
This ad gives pricing information right away, making Leaptel look transparent to an ad viewer. Listing prices in your ads show your brand has nothing to hide.
Another example of how to expertly use Google site links. This ad's site links go to pages with information about home internet plans, hardware, and other relevant links.
8. Sleep Doctor – Highlight Your Lead Magnet

Sleep Doctor is a company that sells adjustable beds, mattresses, and lift chairs. They also offer customizable adjustable beds based on customer specifications.
In their ad, they highlight their lead magnet (i.e. freebie): a free in-home consultation. This highlights what prospects give for free, making the ad immediately attractive.
Most online mattress companies aren't offering in-home consultations, let alone free ones! Another great example of an unbeatable offer, highlighted in the ad.
This ad highlights the variety Sleep Doctor offers. Sleep Doctor's ad mentions that it has over 1,000 bedding variations available in hundreds of combinations.
Sleep Doctor targets both in-person and online shoppers in its ad. When you're creating ads, make sure you don't accidentally leave out important customer segments.
9. Moz – Targeting Competitor Keywords

Moz is an SEO software company that gives valuable data to help drive more organic traffic. One of its main competitors is ahrefs. And when people look for an "ahrefs alternative", what's the first thing they see?
A Moz ad offering people a free trial of the latter.
This is a Godfather offer in and of itself… But especially attractive if you're looking for an ahrefs alternative. Smart targeting and a smart offer make for winning marketing here.
By targeting the keyword phrase 'Ahrefs alternative,' Moz's ad has the chance to win new customers from Ahrefs' frustrated audience segments.
The first sentence of this ad mentions the main benefits for users, boosting rankings and search engine visibility.
With so many features to offer, Moz uses its ad space to list out features in extremely short sentences and doesn't waste a word. If you have a laundry list of product or service benefits, use them in your ads.
10. Semrush – Stealing Traffic Back

This is a reversal of the previous ad's concept. When people look for Semrush alternatives, they see… A Semrush ad.
The ad highlights key benefits, like Semrush being the best SEO tool for 2022 and the amount of data it's crawled. Simple but effective for stealing traffic back from competitors targeting your branded keywords. 
You don't have to shy away from keywords and searchers looking for alternatives to your brand. Embrace these keywords – show searchers why your company is no match for any competitor.
Customers usually love award-winning companies. Mention your company's past awards to boost conversion rates.
Use your ad description space to highlight qualities about your company. In Semrush's ad, you learn that this is an award-winning company with a database of over 40 trillion backlinks.
11. Verse Wealth – Offering a Free Trial

Verse Wealth is a company that provides financial guidance throughout Australia. This company's advisors help customers invest wisely, live happily, and retire with confidence.
Verse Wealth's lead magnet – i.e. freebie – is a short consultation. This consultation gives prospects a chance to get a taste of how the company can help them. This works differently to the lead magnet in #8 (Sleep Doctor), because it's basically a free product sample.
This ad puts its offer in the title, not risking anyone missing its free consultation offer.
Verse Wealth addresses one of its customers' main pain points: the assumption that financial planning is a time-consuming process. What false myths about your industry or company could you address in an ad?
This ad also includes Verse Wealth's business address, adding legitimacy to its advertisement.
Ready to Create Your Own Winning Ads?

Creating Google Ads is easier when you have amazing examples to use. Use the ones on this page for inspiration and learning.
When you're ready to start your own Google Ads campaign, why not sign up to a free consultation with Megaphone Marketing?
We're Australia's #1 digital marketing agency, helping our clients generate over $100 million in monthly revenue. For a limited time, we're also offering $600 in Google Ads credits for every new customer.